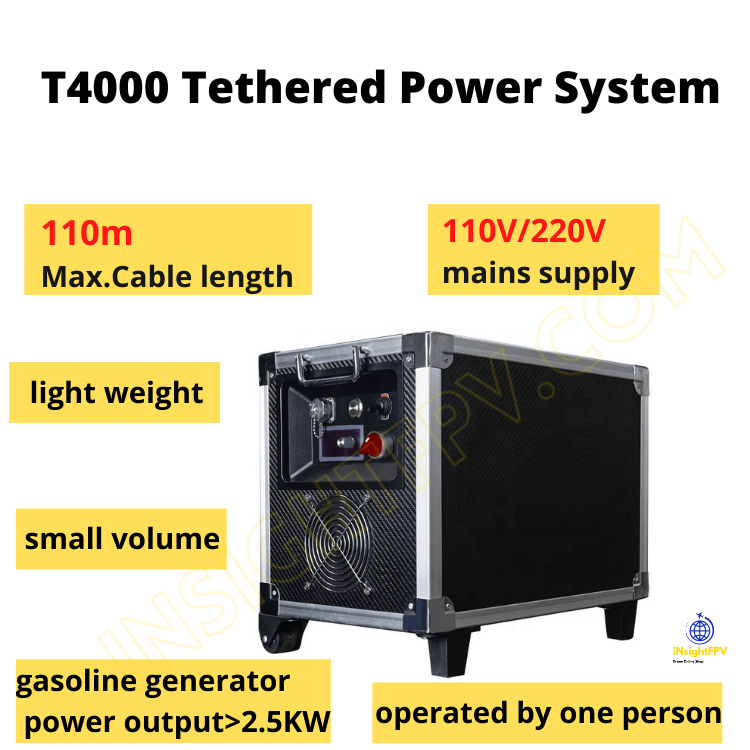 T4000 Tethered Power System
Accessories, AIR, Battery, Carbon fiber, charger, CUAV, Date Link, dji, DLE, Drill, drone, ESC, F15, FPV, Gasoline, Generator, Generator for Drone, gimbal camera, hexacopter, Hot Shoe, light, LiPo, M1500, M300, mapping, mapping camera, MN1010, MN1015, MN501-S, MN505-S, MN601-S, MN605-S, MN701-S, MN705-S, MN801-S, MN805-S, Module, motor, Multispectral Camera, OMPHOBBY, payloadcamera, power, Propeller, Radio Module, Radio System, remote control, skydroid, smart controller, Solid-state Li-ion Battery, SUNNYSKY, Survey, Swan, T-Motor, T-MOTOR AIR, T-MOTOR Antigravity, tachometer, tarot, TATTU, test, Tethered Power System, thermalcamera, transmission, U10Ⅱ, U15, U3, U5, U7, U8, U8II Lite, U8Ⅱ, uav, Video Link, VTOL, ZMO, Zoom Camera

23 Dec, 2021
T4000 Tethered Power System consisting of tethered box and onboard power supply module is designed to provide unlimited, reliable and redundant power source for drones and overcome the limitation of flight duration in the range of 0-100m altitude. T4000 tethered power system has two version: standard version and M300 version.
The tethered power supply system transfers the 220Vac power to 400Vdc required by the onboard power, then the onboard power module output 25V(option) or 50V(12s lipo) for the drone to realize ultra-long time hovering. The ultra-light onboard power (less than 500g) replaces the battery, enables you to fly as long as required. T4000 Tethered Power System features light weight and small volume, which is able to be carried and operated by one person.
The fiber optic communication is also supported (option), which has the advantage of high communication capacity, anti-electromagnetic interference and high data security.
T4000 tethered power system is suitable for various drones like RHEA 160, GAIA 160MP hexacopter, DJI M300 etc. When the DJI M300 uses TB60 batteries, the maximum net load capacity is 1.4kg in tethered flight within a height of 100 meters. Taking overheating and loss into consideration, the suggested flight time per flight is 4 hours. 
T4000 tethered power system coupled with commercial drones can be applied in many different fields by loading different equipment. Mainly used as relay station, long time observation station, emergency lighting in the air etc.