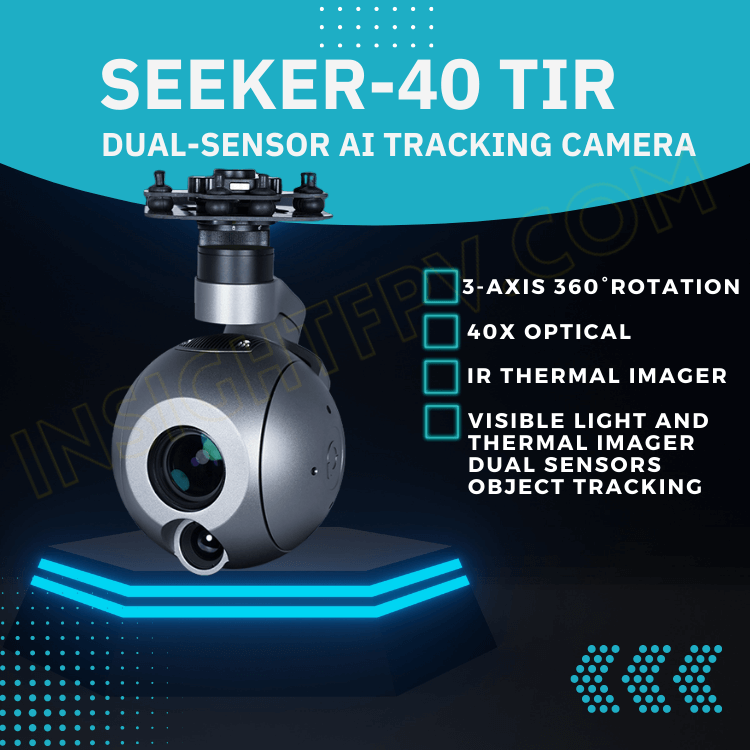 Seeker-40 TIR Dual-Sensor AI Tracking Camera
Accessories, AIR, Battery, Carbon fiber, charger, CUAV, Date Link, dji, DLE, Drill, drone, ESC, F15, FPV, Gasoline, Generator, Generator for Drone, gimbal camera, hexacopter, Hot Shoe, light, LiPo, M1500, M300, mapping, mapping camera, MN1010, MN1015, MN501-S, MN505-S, MN601-S, MN605-S, MN701-S, MN705-S, MN801-S, MN805-S, Module, motor, Multispectral Camera, OMPHOBBY, payloadcamera, power, Propeller, Radio Module, Radio System, remote control, skydroid, smart controller, Solid-state Li-ion Battery, SUNNYSKY, Survey, Swan, T-Motor, T-MOTOR AIR, T-MOTOR Antigravity, tachometer, tarot, TATTU, test, Tethered Power System, thermalcamera, transmission, U10Ⅱ, U15, U3, U5, U7, U8, U8II Lite, U8Ⅱ, uav, Video Link, VTOL, ZMO, Zoom Camera

31 Mar, 2022
Q&A
1.What outputs does the Seeker-40 HDMI have?
A: HDMI1080P60fps (standard)/HDMI1080P30fps.
2. Does Seeker-40 support taking pictures during recording?
A: Yes.
3. How is the photo recording of the Seeker-40 saved?
A: When the network output resolution is set to 1280*720, the storage resolution is 1920*1080; When the network output resolution is set to 1920*1080, the storage resolution is 1920*1080.
The frame rate stored on the TF card is the same as the frame rate set in the network output, and the frame rate can be 30fps or 60fps.
Seeker-40 is a high Resolution AI Tracking Camera with High-precise 3-axis, high Resolution 40x optical zoom EO sensor and a thermal sensor with 
19 mm lens 640*512 IR
.It supports IR thermal sensor and EO PIP switch, IR color palette switch, photo and video recording, target tracking, thermal digital zoom and AI detection of vehicles and people. When the external GPS and time are entered, the GPS coordinates and recording time can be saved in the image file. The OSD can also display GPS and real time.
The Seeker-40 is widely used in the UAV industry in 
public safety
, 
power supply
, 
firefighting
, 
aerial photography
 and other industrial applications.
The control method supports 
PWM / TTL / S. BUS / TCP
.
The standard configuration is IP output, but we also offer HDMI and IP output version, contact us if you want. And if you want temperature measurement function, please contact us.
Feature:1. 3-axis 360°rotation
Stabilized the Seeker-40 is a highly optimized 3-axis gimbal integrated with AI object identifcation and target tracking module, which with pinpoint-precise motor rotation with a control accuracy of ±0.01° powered by a dedicated processor.
The 3-axis gimbal developed base on FOC technology features high stability, accuracy and sensitivity.
2. High Resolution 40x optical zoom EO sensor
2.13 mega effective pixel, combined with 40x advanced optical zoom technology, the observation range is up to 3000 meters, which can meet the application requirements of various domains.
3. Advanced IR Thermal Imager
19mm thermal image sensor with 640*512 detector pixel,it can record and transmit thermal image and visible images at the same time in PIP format.
4. Visible Light and Thermal Imager Dual Sensors Object Tracking
Build-in normalization, cross-correlation and tracking algorithm, combining with object missing recapture algorithm, achieve stable track of the target. Support custom characters of user OSD, adaptive gate, cross cursor, trace information display. The tracking speed is up to 32pixel/frame,object size range is from 16*16 pixel to 160*160 pixel, with the minimal signal-to-noise ratio (SNR) 4dB, the mean square root values of pulse noise in the object position < 0.5 pixel, which greatly improve the accuracy and tracking effect.