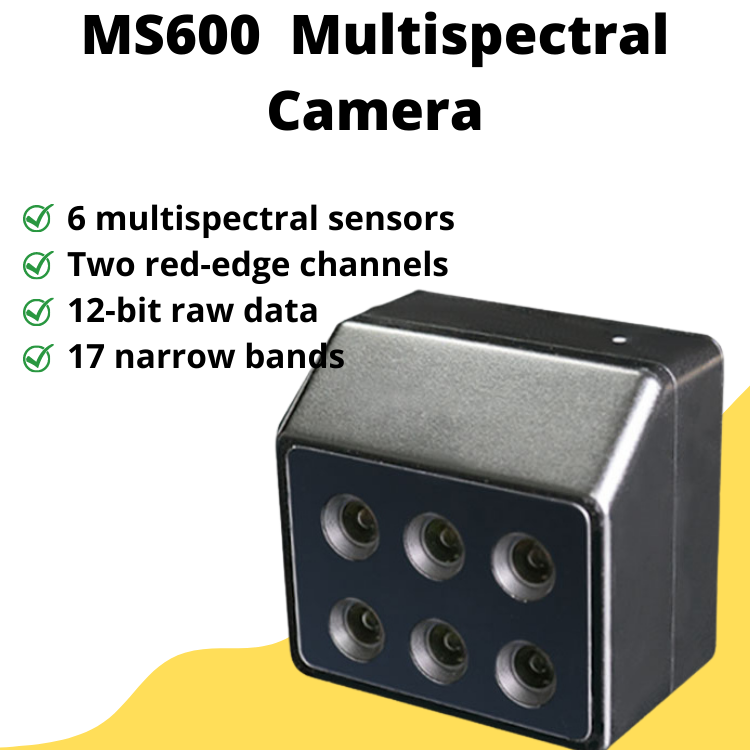 MS600 Series Multispectral Camera
Accessories, AIR, Battery, Carbon fiber, charger, CUAV, Date Link, dji, DLE, Drill, drone, ESC, F15, FPV, Gasoline, Generator, Generator for Drone, gimbal camera, hexacopter, Hot Shoe, light, LiPo, M1500, M300, mapping, mapping camera, MN1010, MN1015, MN501-S, MN505-S, MN601-S, MN605-S, MN701-S, MN705-S, MN801-S, MN805-S, Module, motor, Multispectral Camera, OMPHOBBY, payloadcamera, power, Propeller, Radio Module, Radio System, remote control, skydroid, smart controller, Solid-state Li-ion Battery, SUNNYSKY, Survey, Swan, T-Motor, T-MOTOR AIR, T-MOTOR Antigravity, tachometer, tarot, TATTU, test, Tethered Power System, thermalcamera, transmission, U10Ⅱ, U15, U3, U5, U7, U8, U8II Lite, U8Ⅱ, uav, Video Link, VTOL, ZMO, Zoom Camera

16 Feb, 2022
The MS600 series multispectral camera is a lightweight, compact professional camera for use with UAVs and includes 2 versions.: MS600 V2 and MS600 Pro.
The MS600 Series are professional UAV-based multispectral cameras with six narrowband spectral bands, two Red Edge channels, 12-bit raw data, and a CMOS sensor with global shutter. With six 1.2-megapixel multispectral sensors, MS600 Series cameras can detect 6 specific light bands such as blue, green, red, double red, and near-infrared to capture invisible images to meet the needs of various industries, such as agriculture、 forestry、environmental  disaster, crop condition monitoring, resource monitoring, water quality monitoring, river ecology, and target identification (*17 optional bands, please contact us for customization).
The MS600 is general purpose, operates from 7V DC to 30V DC and can be controlled over the network via WiFi. The MS600 has a recording rate of one second (all six bands), allowing the MS600 to be integrated into virtually any small drone.
The MS600 Pro is powered by DJI X-Port and integrates seamlessly and easily with DJI's M200 V2, M210 V2, M210 RTK V2 and M300 RTK drones. The camera and DJI drone can be set up with DJI Pilot APP, and spectral images can be sent to DJI Drone Control APP (not Pilot, developed with DJI's MSDK) or the cloud platform during flight.
In addition to the multispectral camera, the MS600 series cameras have a downlight sensor (DLS) that measures ambient light during flight to provide more accurate data in varying lighting conditions. The DLS also has a built-in GPS module that measures the position and attitude of the camera during flight and records it in the image metadata for later analysis.

MS600 multispectral camera introduction to the function
Ø 6 narrowband multispectral sensors.
1.2 megapixels per EO band, global shutter.
Ø Two red-edge channels.
Ø Optimized automatic exposure for high contrast scenes.
Ø 17 narrow bands from 410nm to 900nm.
Ø 12-bit raw data, 16-bit standard data TIFF.
Ø High image resolution: 8.65 cm/pixel at 120 m (400 ft).
Ø Single SD card to store all images and sink data.
Ø Combined downlight sensor (DLS) and precise ambient light calibration.
Ø Fast acquisition per second (all wavelengths) for integration into most small UAVs.
Ø Open API for image transmission and camera control.