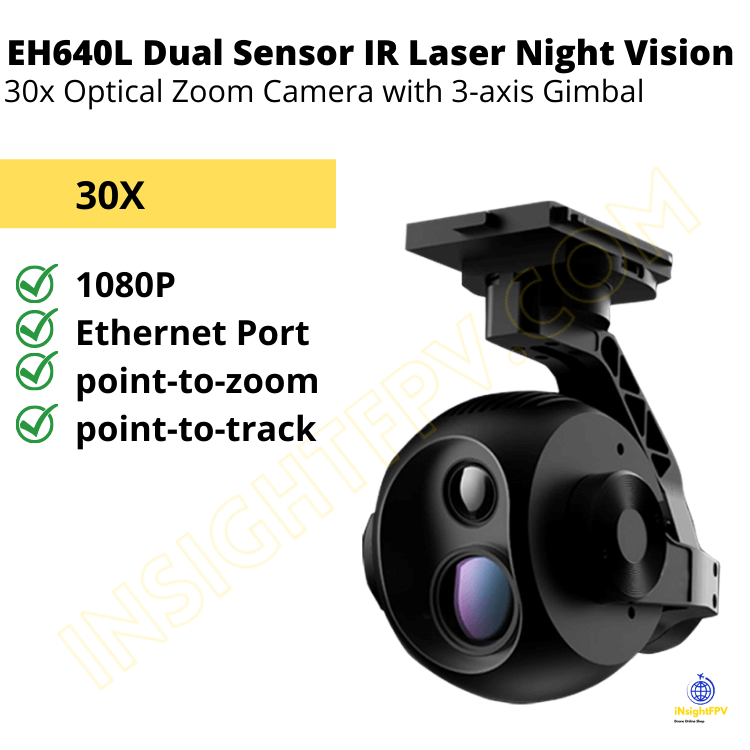 EH640L Dual Sensor IR Laser Night Vision 30x Optical Zoom Camera with 3-axis Gimbal
Accessories, AIR, Battery, Carbon fiber, charger, CUAV, Date Link, dji, DLE, Drill, drone, ESC, F15, FPV, Gasoline, Generator, Generator for Drone, gimbal camera, hexacopter, Hot Shoe, light, LiPo, M1500, M300, mapping, mapping camera, MN1010, MN1015, MN501-S, MN505-S, MN601-S, MN605-S, MN701-S, MN705-S, MN801-S, MN805-S, Module, motor, Multispectral Camera, OMPHOBBY, payloadcamera, power, Propeller, Radio Module, Radio System, remote control, skydroid, smart controller, Solid-state Li-ion Battery, SUNNYSKY, Survey, Swan, T-Motor, T-MOTOR AIR, T-MOTOR Antigravity, tachometer, tarot, TATTU, test, Tethered Power System, thermalcamera, transmission, U10Ⅱ, U15, U3, U5, U7, U8, U8II Lite, U8Ⅱ, uav, Video Link, VTOL, ZMO, Zoom Camera

22 Mar, 2022
EH640L is a dual-sensor 1080P 30x optical zoom infrared night vision camera with 3-axis gimbal, which includes a 30x optical zoom camera and a IR laser night vision camera. It supports 1080P max.50fps full HD video output with Ethernet port and Max.128G SD card. And it also supports Sbus control with an OSD module.
With the IR laser night vision camera adding extra laser light that's invisible to our naked eye to the white light camera, EH640L can zoom in and out and work perfectly well in a complete dark environment, accommodating to various situations such as search and rescue, crime prevention, border patrol if configured on a Foxtech fixedwing or multirotor like Baby Shark VTOL, Rhea 160 Hexacopter, Gaia 160S.
It is able to switch automatically from day mode to night mode when the surrounding lighting is suddenly dimmed, or vice versa. Or it can also be turned off in the settings if you don't want an auto switch.
Spot diameter adjusts along with the zoom. In the process of zooming in, the light spot turns smaller and focused to help focus on the object.
Object tracking is initiated with a single click or tap on the screen whether in the day or at night.
EH640L adopts electronic fog penetrate technology, which relies on a built-in chip to process the pictures to enhance image quality.
With ±0.008° 3-axis gimbal stabilization, it can record stable HD videos without shake, giving you smooth video.
EH640L shares the same gimbal-mounting board as EH640 Series and EH30 Series, thus interchangeable with them.
It can be easily operated through GCS to execute commands like click to track, one-key zooming or one-key centering, or set 1-4x digital zoom for the white light camera, realizing Max.120 zoom. With a pad or phone, it can achieve more functions like point-to-zoom or point-to-track.