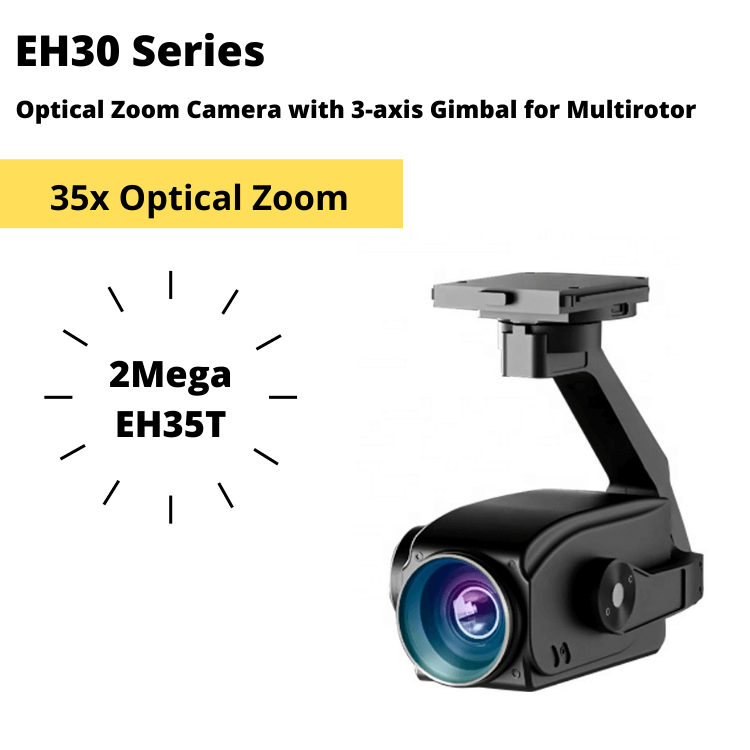 EH30 Series 30x-35x Optical Zoom Camera with 3-axis Gimbal for Multirotor
Accessories, AIR, Battery, Carbon fiber, charger, CUAV, Date Link, dji, DLE, Drill, drone, ESC, F15, FPV, Gasoline, Generator, Generator for Drone, gimbal camera, hexacopter, Hot Shoe, light, LiPo, M1500, M300, mapping, mapping camera, MN1010, MN1015, MN501-S, MN505-S, MN601-S, MN605-S, MN701-S, MN705-S, MN801-S, MN805-S, Module, motor, Multispectral Camera, OMPHOBBY, payloadcamera, power, Propeller, Radio Module, Radio System, remote control, skydroid, smart controller, Solid-state Li-ion Battery, SUNNYSKY, Survey, Swan, T-Motor, T-MOTOR AIR, T-MOTOR Antigravity, tachometer, tarot, TATTU, test, Tethered Power System, thermalcamera, transmission, U10Ⅱ, U15, U3, U5, U7, U8, U8II Lite, U8Ⅱ, uav, Video Link, VTOL, ZMO, Zoom Camera

22 Mar, 2022
EH30 Series 2/8 Megapixels Starlight Camera feature 30x-35x optical zoom with 3-axis gimbal, which support 720P/1080P HD video output with Ethernet port and 1080P/4K HD video recorded in Max. 128GB micro SD card. Sbus control is also supported with an OSD module through Wincc.
There are two versions to choose from: 35x optical zoom 2 mega EH35T, and 30x optical zoom 8 mega EH30GT.
The soul of EH30 Series CMOS 1/1.8″ large image sensor is adopted to allow larger pixels for excellent noise performance to work better in a low-light environment, as larger pixels more ably handle gaps in brightness to reproduce better image detail.
EH30 Series involves a coaction of electronic and optical fog penetrate technology to enhance image quality: the electronic type relies on a built-in chip to process the pictures while the optical type adds a fog filter to the lens.
And with its 3-axis high-precision stabilization technology, whose accuracy is ±0.008°, it can record stable HD videos without shake, giving you smooth video.
A UV filter is added to protect the lens from dust or getting cracks, or block blue-purple hues caused by ultraviolet rays especially at open fields like the seaside, mountains, prairie.
Target tracking is initiated by two means: click-to-track through GCS or remote control switch through Sbus control.
EH30 Series adopts fast assembly design, and it is interchangeable with the EH640 Series. It supports multi-platform mounting, making it easy to mount on a variety of multirotors like Rhea 160 Hexacopter, Gaia 160S, etc.
It can be easily operated through GCS to execute commands like one-key centering. With a pad or mobile phone which has GCS installed, it can achieve point-to-zoom or point-to-track, etc.
EH30 Series can be widely applied in inspection, surveillance, monitoring, etc.