BABY SHARK250 Fixed Wing Long Range VTOL UAV Drone Aerial mapping tracking UAV
Accessories, AIR, Battery, Carbon fiber, charger, CUAV, Date Link, dji, DLE, Drill, drone, ESC, F15, FPV, Gasoline, Generator, Generator for Drone, gimbal camera, hexacopter, Hot Shoe, light, LiPo, M1500, M300, mapping, mapping camera, MN1010, MN1015, MN501-S, MN505-S, MN601-S, MN605-S, MN701-S, MN705-S, MN801-S, MN805-S, Module, motor, Multispectral Camera, OMPHOBBY, payloadcamera, power, Propeller, Radio Module, Radio System, remote control, skydroid, smart controller, Solid-state Li-ion Battery, SUNNYSKY, Survey, Swan, T-Motor, T-MOTOR AIR, T-MOTOR Antigravity, tachometer, tarot, TATTU, test, Tethered Power System, thermalcamera, transmission, U10Ⅱ, U15, U3, U5, U7, U8, U8II Lite, U8Ⅱ, uav, Video Link, VTOL, ZMO, Zoom Camera

16 Dec, 2021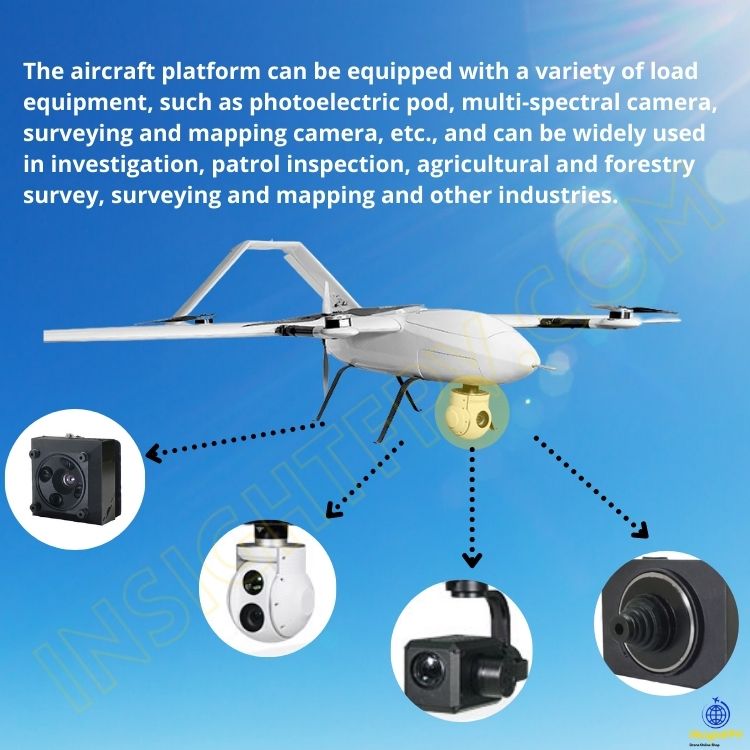 The aircraft platform adopts the fixed-wing + four-rotor composite layout, which is able to take off and land vertically,and fly like a multicopter.
The runway is not needed during take-off and landing, which reduces the conditions of the take-off and landing site.Feature a highly advanced aerodynamic design. The fuselage adopts composite material integrated molding process, which makes the structure strong and light, and enhances the loading capacity.The rear propulsion system USES pure custom cylindrical battery, which greatly improves the battery life and range.In the vertical take-off and landing stage, the power system USES lithium battery to drive the motor, making the take-off and landing more stable.

Adopt quick-detach design which makes the plane easy to set up and transport. The fuselage also has big inner space,can be equipped with a variety of load equipment, such as photoelectric pod, multi-spectral camera, surveying and mapping camera, map transmission link, etc., and can be widely used in investigation, patrol inspection, agricultural and forestry survey, surveying and mapping and other industries.