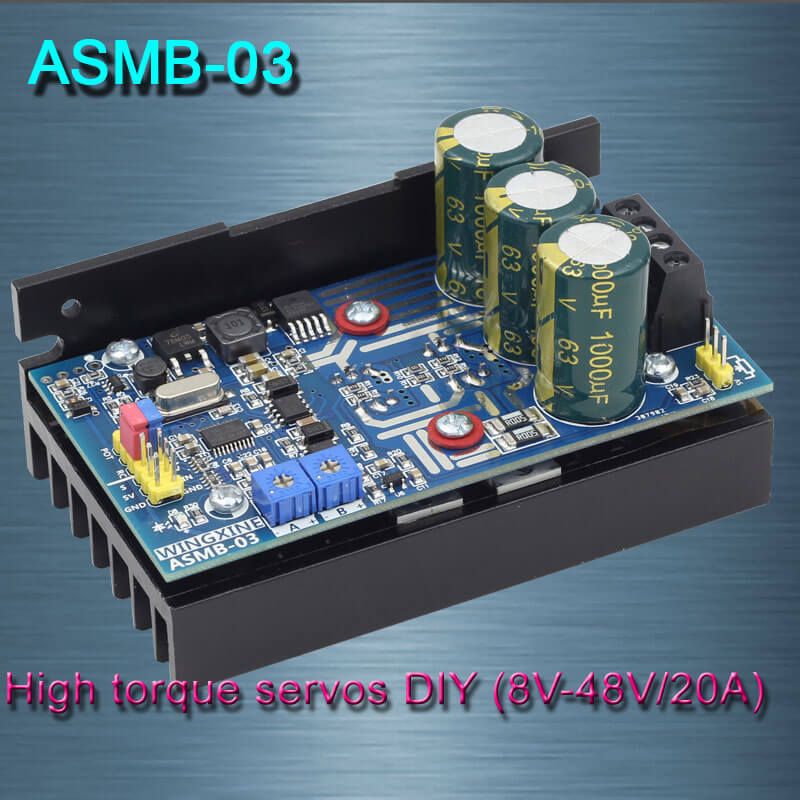 ASMB-03- high-torque servo controller Servo DIY/8V-48V/20A 1000N.m
Accessories, AIR, Battery, Carbon fiber, charger, CUAV, Date Link, dji, DLE, Drill, drone, ESC, F15, FPV, Gasoline, Generator, Generator for Drone, gimbal camera, hexacopter, Hot Shoe, light, LiPo, M1500, M300, mapping, mapping camera, MN1010, MN1015, MN501-S, MN505-S, MN601-S, MN605-S, MN701-S, MN705-S, MN801-S, MN805-S, Module, motor, Multispectral Camera, OMPHOBBY, payloadcamera, power, Propeller, Radio Module, Radio System, remote control, skydroid, smart controller, Solid-state Li-ion Battery, SUNNYSKY, Survey, Swan, T-Motor, T-MOTOR AIR, T-MOTOR Antigravity, tachometer, tarot, TATTU, test, Tethered Power System, thermalcamera, transmission, U10Ⅱ, U15, U3, U5, U7, U8, U8II Lite, U8Ⅱ, uav, Video Link, VTOL, ZMO, Zoom Camera

30 Jan, 2022
ASMB-03- high torque servo controller servo DIY/8V-48V/20A 1000N.m

Operating voltage : 8V~48(DC)
Limit voltage : 7V to 60V(DC)
No-load current : < 30mA
Input signal pulse width : 0.5ms to 2.5ms/1ms to 2ms
Input Mode : pulse signal or analog voltage signal
Voltage signal input range : 0V to +5V

Applications: Medium and large robots, robots and other high torque powerful controllers.
The use of the drive is the same as the internal boards of ordinary small servos, the steering of the use of the drive with the motor and the user's potentiometer, which have any shape. The use of the methods and assembly are the same as ordinary servos, the function is the same. A wireless transceiver that can use a commercially available control of a drive or control its own programming.
The drive voltage is connected to the potentiometer through the detection and the motor rotor to determine the angle of rotation of the motor.
Existing buyers make 200N.m steering gear through our products, and ultra-strong torque can produce large robots. With a one meter robot arm, you can easily lift hundreds of kilograms.
Our products are easy to install, only in accordance with the instructions provided, installed power cable, the motor cable, the feedback angle with the potential, an ordinary gear motor assembly into an unimaginable super servos 240W motor through the delay mechanism theory can make 1000N.m torque general steering can not do. Controlling the output torque of your motor determines how much your motor can do against the super steering gear.
Use ordinary steering gear can be easily connected to the remote control or steering gear control operation is very simple! Do not act quickly to create their own super steering gear.
Servo motor is an important executive structure in robots, mechanism and electronics and (aeromodellings. ) Servo motor controller provides the necessary power and control signals.Through the power steering gear module, common DC speed motor will be used in high performance steering gear, for heavy robot arm or leg go.