3DM V3 Oblique Camera for Drone Mapping and Survey
Accessories, AIR, Battery, Carbon fiber, charger, CUAV, Date Link, dji, DLE, Drill, drone, ESC, F15, FPV, Gasoline, Generator, Generator for Drone, gimbal camera, hexacopter, Hot Shoe, light, LiPo, M1500, M300, mapping, mapping camera, MN1010, MN1015, MN501-S, MN505-S, MN601-S, MN605-S, MN701-S, MN705-S, MN801-S, MN805-S, Module, motor, Multispectral Camera, OMPHOBBY, payloadcamera, power, Propeller, Radio Module, Radio System, remote control, skydroid, smart controller, Solid-state Li-ion Battery, SUNNYSKY, Survey, Swan, T-Motor, T-MOTOR AIR, T-MOTOR Antigravity, tachometer, tarot, TATTU, test, Tethered Power System, thermalcamera, transmission, U10Ⅱ, U15, U3, U5, U7, U8, U8II Lite, U8Ⅱ, uav, Video Link, VTOL, ZMO, Zoom Camera

15 Dec, 2021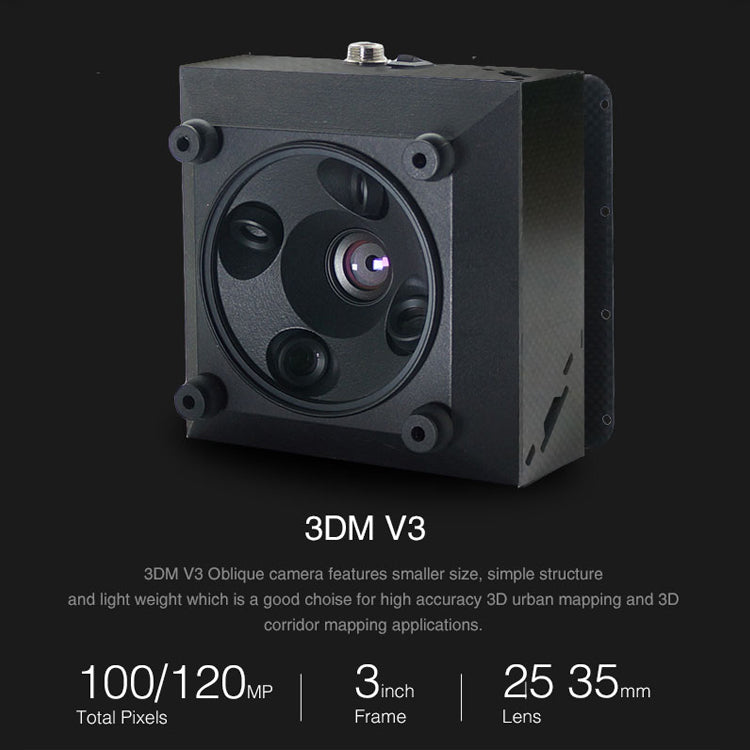 3DM V3 Oblique Camera for Drone Mapping and Survey
Features and Advantages
1. 3DM V3 an updated version based on 3DM V2 3D modelling Oblique camera. Compared with 3DM V2 Oblique camera the 3DM V3 features smaller size, simple structure and light weight, the total weight is only 683g, it is the lightest oblique camera.
2. The surrounding cameras is equipped with 35.7mm lens to take subjects far away, and the center camera is equipped with 25.2mm lens to take less distance. The pixel of each camera is about 24mega, the total pixels number of the five cameras is 120 mega.
3.3D modelling Oblique camera has cooling system built inside, and it also has its own damper system to ensure good image quality. Support wide voltage, power supply range of 3DM V3 is 4s-6s.
4.And it has 5 external SD card sockets, it is convenient for Image Exporting, the total memory capacity is 320GB.
5.The simple structure make it easy to be fixed on multicopter, or on the fixedwings, the 3DM Oblique camera has adjustable tilt brackets for multicopters.